Resources
back
3/26/2021
March 2021 Memory Support Blog
Lillian Reda, Director of Memory Support Clinical Practice and Education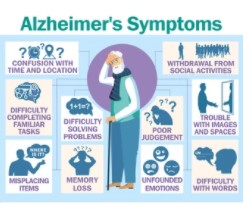 A March 4-Part Series
By: Lillian Reda, Genesis HealthCare, Director of Memory Support Clinical Practice and Education
Series: 1
Advocacy – Why Get Checked?
If you notice any of the 10 warning signs of Alzheimer's disease in yourself or someone you know, schedule an appointment with your doctor. An early diagnosis of Alzheimer's provides a range of benefits for the individuals who are diagnosed.
Getting checked by your doctor can help determine if the symptoms you are experiencing are truly due to Alzheimer's or some other — perhaps even treatable — condition. 
If Alzheimer's is the cause, an early diagnosis allows you:
Access to treatment options: While current medications do not prevent, stop or reverse Alzheimer's, they can help lessen the symptoms, such as memory loss and confusion, for a limited time. An early Alzheimer's diagnosis provides you with a better chance of benefiting from treatment.
An opportunity to participate in clinical trials: An early diagnosis makes individuals eligible for a wider variety of clinical trials, which advance research and may provide medical benefits.
A chance to prioritize your health: Some lifestyle changes, such as controlling blood pressure, stopping smoking, participating in exercise, and staying mentally and socially active, may help preserve cognitive function.  
Receiving an early Alzheimer's diagnosis may help lessen anxieties about why you are experiencing symptoms. You and your family also have the opportunity to maximize your time together and access resources and support programs.  
More time to plan for the future
Do you know who you would want to make decisions for you in the event you're no longer able to? An earlier diagnosis also allows you to be open with your family and support network about what you want during each stage of the disease. This can give you peace of mind, reduce the burden on family members and prevent disagreements.
Planning ahead allows you to express your wishes about legal, financial and end-of-life decisions. You and your family will be able to review and update legal documents, discuss finances and property, and identify your care preferences. You can also address potential safety issues, such as driving or wandering, ahead of time.
Cost savings
Early diagnosis saves costs of medical and long-term care for both families and the U.S. government. Among all Americans alive today, if those who will get Alzheimer's disease were diagnosed when they had mild cognitive impairment, before dementia, it would collectively save $7 trillion to $7.9 trillion* in health and long-term care costs.
#alz.org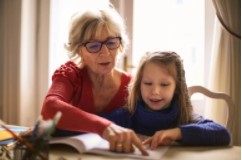 A March 4-Part Series
By: Lillian Reda, Genesis HealthCare, Director of Memory Support Clinical Practice and Education
Series: 2
Seniors with grandchildren often relish spending time with their favorite youngsters, and new research suggests doing so may be good for their health. Scientists from Boston College's Institute on Aging found that grandchildren and grandparents who have strong relationships both experience a decreased risk of developing symptoms of depression. The greater emotional support grandparents and adult grandchildren received from one another, the better their psychological health.
Experts say the findings should encourage families to focus on more than just the nuclear family. Including extended members in day-to-day activities, notably grandchildren and grandparents, can have significant, tangible benefits for everyone. 
Of course, forming a strong bond with grandchildren is not always easy. It can be difficult to involve them in senior living, but there are a number of activities that are perfect for both grandparents and grandkids.
Concerns about COVID-19 have made it difficult for grandparents to visit with their grandkids in person. For many families, the forced separation has been one of the most difficult parts of riding out this global pandemic. Fortunately, technology makes it easy to connect from across the country or just across town.
The phrase digital grandparent was coined to describe relationships that utilize technology to stay connected, and not just because of coronavirus concerns. Many families are separated by great distances because of career and lifestyle choices.
If you are looking for ways to help your parents and children bond and build memories virtually, here are a few suggestions. No matter the grandchildren's age, there are opportunities for the generations to feel like they are an important part of one another's lives. The key is to explore different forms of technology.
Virtual Visits and Tech That Connects
Video chat: This first suggestion is one that can be used in a variety of ways. This is to connect using video chat platforms, such as FaceTime, Skype, and Zoom. These tech products allow families to enjoy virtual face-to-face conversations. The chats can be several times a week to catch up on daily life, or they can be used a little more creatively. The younger and older generations might enjoy sharing a weekly story time across the miles, playing a virtual game of checkers or cooking session or enjoying a meal together.
Text messaging: As more seniors trade their old cell phones for smartphones, text messaging has become an easy way for the two generations to stay in touch. The grandkids can shoot a quick video and text it to a grandparent from wherever they are, such as the playground, college, or their job. For grandparents who might have arthritis or another health condition that makes navigating a smartphone keyboard tough, talk-to-text can be utilized.
For older adults who call one of our Genesis Centers home, know that our team members are happy to make such virtual connections a little easier. Our centers are equipped with the latest communication technology and whether it's mastering ZOOM, FaceTime, emailing photos, or texting a video to the grandkids, the team is here to help!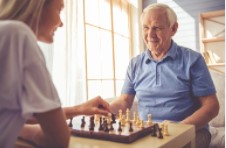 A March 4-Part Series
By: Lillian Reda, Genesis HealthCare, Director of Memory Support Clinical Practice and Education
Series: 3
If you are caring for someone living with Alzheimer's disease or another dementia, the challenges of COVID-19 and social distancing may further feelings of isolation. Here are a few cognitively stimulating activities perhaps you can try.
Before you start planning, however, it is important to understand these are not one-size-fits-all. In order to pick the right activities, we need to consider their level of cognitive decline, what skills and abilities are remaining, and what cues or environmental aids can help the person. They may not be able to complete some tasks as well as they used to or even have the same tastes or preferences, but stay ready for unexpected opportunities for fun and connection because you never know what will spark their interest. 
For someone who is nonverbal, think about ways to talk through the activities by using visual and physical cues to connect them to what you're saying and doing. Consider activities that don't require a lot of set-up time and that provide immediate feedback. Try to do things together as much as possible – just setting the person down in front of a craft, for example, is not likely to be successful.
Additionally, if you aren't able to connect with your person physically but are able to reach out through video chat software such as FaceTime, Zoom or Google Hangouts, simply modify the suggested in-person activities to work remotely by sharing your screen with them. Finally, while your person may not remember the moments you are creating – you will! So be kind to yourself and choose things to do that are enjoyable for you both.
Here are few ideas to get you started:
Reminisce: Look at old photographs, books, and magazines together. It is a great way to engage, and it can give your person an opportunity to tell stories about times gone by.
"Compare and contrast": One way to do this is to create a fun game around spotting the difference between two images. Something as simple as pulling up a photo of a dog vs. a photo of a cat and have them point out what is the same or different. Another stimulating activity around this idea is to talk about something current (for instance, a TV show or a new model car) and talk through how it has changed over time, and how it might be in the future.
Reflect: Start conversations that get the person living with dementia talking and thinking about past accomplishments, achievements, or contributions. This can be sparked by touching an award or other physical prompts around the house.
Plan together: Ask for your person's help with creating a shopping list, gathering supplies, or organizing an upcoming event together. For example: "I think I'll make some chocolate chip cookies tomorrow. Can you help me make a list of what we'll need?
Laugh: In times like these, laughter can be so valuable. Find ways to do it, whether it's by watching a funny movie or TV show, reading joke books, or watching YouTube videos. 
Connect with others: Make phone or video calls to friends and loved ones. Host a virtual tea, coffee time, or happy hour. Take the time to write them a note or card. Chances are, they're bored at home, too, and will welcome the connection!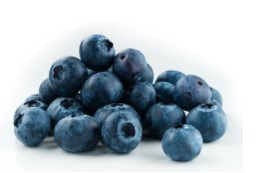 A March 4-Part Series
By: Lillian Reda, Genesis HealthCare, Director of Memory Support Clinical Practice and Education
Series: 4
Spring Season, food for thought?
We all know about the foods that we should eat that are deemed "healthy", but what about the foods that are good for just one very important part…. Say, the brain. In other words, what are the best foods for the brain?  Here's one you might like to indulge in as the Spring Season is upon us. The air is fresh, flowers are blooming and "Berries, Are Berry Good for your Brain". 
Strong scientific evidence exists that eating blueberries, blackberries, strawberries and other berry fruits has beneficial effects on the brain and may help prevent age-related memory loss and other changes, scientists report.
If you're not a vegetable person, you can rely on fruit, especially berries, to improve your brain health. For example, blueberries are well known for their role in improving motor skills as well as your overall learning capacity. They are often called the best berry for your brain, and today you may notice the abundance of products using blueberries. Most berries, including blackberries, blueberries, raspberries, and others, are full of antioxidants that are great for boosting the brain. You can help the effects of aging on the brain by eating these berries once a day. Berries are sometimes referred to as "super-fruits" because most of them contain fisetin and flavenoid, which are great for improving your memory and allowing you to easily recall past events. A delicious and helpful food that is "berry" good for the brain.
back