We are celebrating the 10th Annual 5K Race to the Ledges in 2021. To date, this 5K has donated approximately $28,000 to the Aging Well Alliance Fund. We are proud to support this fund and our local seniors live more active, healthier lives. We hope you'll consider joining us!
Saturday, August 7, 2021 - 9:00 AM
REGISTRATION
Fun 5K Walk/Run course that is part trail, part road. The course runs the path behind Concord Hospital, onto Auburn Street and loops back around.
Proceeds benefit the "Aging Well Alliance Fund" through Concord Hospital Trust. The funds will help support programs for our older adults, within the hospital and in the community.
First 100 registrants will receive a t-shirt and goodie bag. After the first 100 registrants, t-shirts may be purchased until July 23rd, 2021 when registering.
Millennium Running will provide professional chip timing services.
Due to COVID-19 Restrictions this year's race will have staged start times. When registering you will be required to enter your pace, this will help determine your start time. You will receive an email prior to race day with your start time.
REGISTRATION
Register online @: https://www.runreg.com/5k-race-to-the-ledges
Registration through August 6th: $20 per person

NO RACE DAY REGISTRATION
Pre-registration packet pick-up: @ Granite Ledges 151 Langley Parkway, Concord Friday, 8/6 from 3 PM - 6 PM

Children age 6 and under are free. No refunds, as race will take place rain or shine.

Our volunteers make it all happen!
If you would like to volunteer or would like more information about this race, please
Contact: Deb Burns @ 603-224-0777, Email: Deborah.burns@genesishcc.com
RESULTS
Below are links to Race Results from prior runs:
2020 - No official results, Virtual Race
2019 -https://www.gsrs.com/results/3832
2018 -http://www.coolrunning.com/results/18/nh/Aug25_Raceto_set1.shtml
2017 -http://www.coolrunning.com/results/17/nh/Aug26_Raceto_set1.shtml
2016 -http://www.coolrunning.com/results/16/nh/Aug27_Raceto_set1.shtml
2015 -http://www.coolrunning.com/results/15/nh/Aug29_Raceto_set1.shtml
2014 -http://www.coolrunning.com/results/14/nh/Aug30_Raceto_1_set1.shtml
2013 -http://www.coolrunning.com/results/13/nh/Aug31_RaceTo_set1.shtml
2012 -http://www.coolrunning.com/results/12/nh/Sep1_RaceTo_set1.shtml  
ROUTE MAP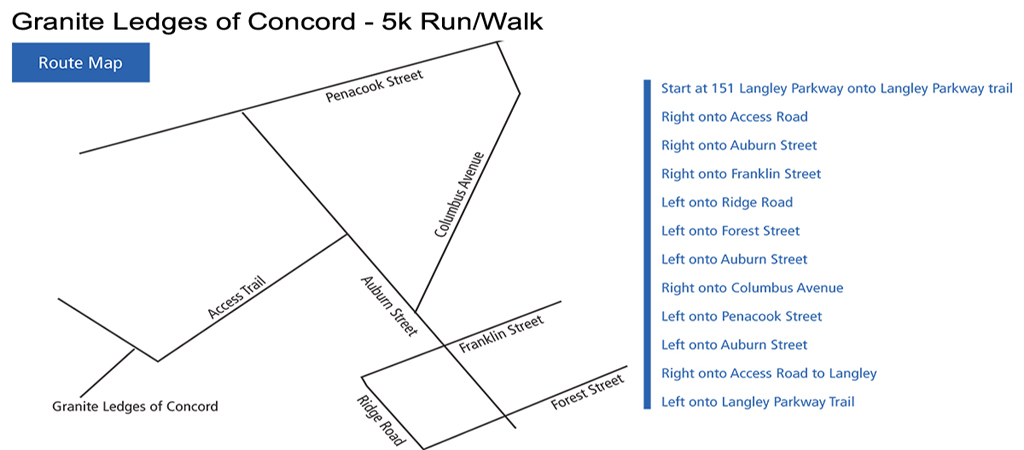 PHOTOS